Anti-Trojan 5.5.421

Anti-Trojan is a fast and reliable trojan remover which detects and deletes trojan horses using a portscan, registry- and diskscan. This grants a very good detection rate of trojan horses. Use the portscan to find open ports on your PC. This method doesn't yet delete any trojan. The registry-scan is a highspeed scan for autorun-entries. It scans the system registry by using known trojan filenames. If a trojan is identified by the registry-scan, it will be removed from disk. The diskscan also removes unwanted trojan files from your harddisks. This is the most important search method. You can select wheter you want to scan whole drives or specified folders. Anti-Trojan also scans within packed files (archives). Known file formats are: ARC, ARK, ARJ, CAB, DWC, PAK, ?Q?, GZ, LBR, LHA, LZH, RAR, SFX, TAR, TAZ, TGZ, Z, ZIP and ZOO. This scan may take a while. As approximate value we scanned 20 gigabytes in about 30 minutes (approx. 170,000 files). After the trojan-search there can be made a HTML report for printing. Actually Anti-Trojan includes more than 9000 trojan signatures. Free online updates are available. The background-guard watches for active trojans while you are working on your PC. An additional feature is the process-viewer plugin for viewing and terminating active tasks. Anti-Trojan comes with 29 language packs: English, German, French, Albanian, Arabian, Brazil, Bulgarian, Catalan, Chinese (BG), Chinese (BIG5), Czech, Danish, Dutch, Estonian, Greek, Hungarian, Italian, Lithuanian, Macedonian, Polish, Portugiesisch, Russian, Serbocroatian, Slovak, Slovenski, Spanish, Swedish, Turkish and Ukrainian. You can test the trial-version with full functionality for 14 days. Subscribe to the Anti-Trojan newsletter to get a message when a new version has been published.
This software is a shareware. You will be able to download and test Anti-Trojan during a certain period of time, then, if it does what you need, you will have to acquire the full version. The trial version available for download on www.softandco.com has a size of 4793 KBytes. For additional information and support request, please contact directly Anti-Trojan publisher.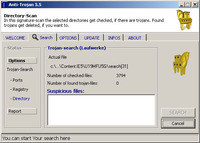 Anti-Trojan 5.5.421 was released by Anti-Trojan Network on Wednesday 09 July 2003. Its known requirements are : none.
Anti-Trojan will run on Windows 95, Windows 98, Windows Me, Windows 2000, Windows NT and Windows XP.
Downloads (7920)
5.5.421
Wednesday 09 July 2003