Stereogram Explorer 2.4

Stereogram Explorer is user-friendly design software for creating high-quality hidden 3D graphics, also known as Single Image Random Dot Stereograms (SIRDS) or Single Image Stereograms (SIS) known from the "Magic Eye" series. Stereogram Explorer uses advanced algorithms and can render animations from 3DS models. Stereogram Explorer enables import 3D models in 3DS-file format (3D Studio) generate and save depth maps. You must only select 3DS file and change scene parameters as scale, rotation and camera offset. Model is displayed as depth map. Depth parameters are automatically recalculated on scene modification. There are some special options to control depth parameters. Stereogram animations from 3D models are rendered to AVI files.
Main features:
User-friendly interface Random dot stereograms (SIRDS) Pattern or textured stereograms (SIS) Support for many file types including GIFs, JPEGs, PICTs, and BMPs Import 3DS (3D Studio) models Export depthmaps from 3D scene Autocalculated depth coeficient for loaded 3D models Scaling, rotating and moving 3D models Generate AVI animation from 3D model Export to BMP and JPG image Hidden-surface removal Complete absence of artifacts (ghosts) Really smooth 3D images (oversampling up to 8 levels) Blur effect (3 levels) Automatic texture and depth image bilinear resizing All options are configurable
Supported image file formats: Depth & texture Image Formats - BMP, JPG, PNG, TIFF, TGA, GIF, PCX, WMF, EMF,... 3D model formats - 3DS Output Image Format - BMP, JPG, PNG, TGA Output Animation Format - AVI
This software is a shareware. You will be able to download and test Stereogram Explorer during a certain period of time, then, if it does what you need, you will have to acquire the full version. The trial version available for download on www.softandco.com has a size of 1700 KBytes. For additional information and support request, please contact directly Stereogram Explorer publisher.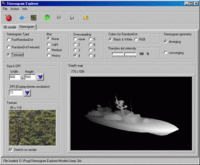 Stereogram Explorer 2.4 was released by olej on Sunday 04 February 2007. Its known requirements are : 32 MB RAM.
Stereogram Explorer will run on Windows Me, Windows 2000 and Windows XP.
Downloads (4825)
2.4
Sunday 04 February 2007