QuadQuest 2.32.05

QuadQuest is a turn-based strategy adventure game in which you play four quests. Each quest has its own hero, but you choose the five party members that will accompany the hero. Battle more than 100 different enemies in medieval, mythical lands. Select from more than 100 different items when equipping your party. Download a free trial version of QuadQuest that you can use indefinitely! Published by Dataware.
This software is a shareware. You will be able to download and test QuadQuest during a certain period of time, then, if it does what you need, you will have to acquire the full version. The trial version available for download on www.softandco.com has a size of 1542 KBytes. For additional information and support request, please contact directly QuadQuest publisher.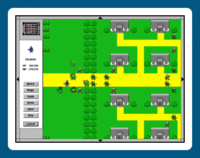 QuadQuest 2.32.05 was released by Dataware on Friday 31 August 2012.
Downloads (3238)
2.32.05
Friday 31 August 2012