Modern Warfare 2.41.19

A turn-based strategy game in which you command either the United States' military or China's military. As commander during a war that takes place in the East Asia, you control a modern military which is based on realistic units with high-tech armament. Using these units, you make strategic moves to bring your country to victory. Download a free trial version of Modern Warfare that you can use indefinitely! Published by Dataware.
This software is a shareware. You will be able to download and test Modern Warfare during a certain period of time, then, if it does what you need, you will have to acquire the full version. The trial version available for download on www.softandco.com has a size of 439 KBytes. For additional information and support request, please contact directly Modern Warfare publisher.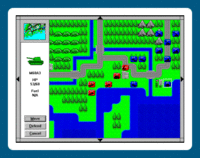 Modern Warfare 2.41.19 was released by Dataware on Wednesday 28 September 2011.
Downloads (3443)
2.41.19
Wednesday 28 September 2011