Lotto Creo 4.0
Lotto Creo Pro 3.0 is a powerful analysing lottery software that selects the best numbers. Software has a full and abbreviated wheeling system with filters. Filters eliminats tickets with combinations of numbers that are less likely to be drawn. Any player that is successful uses a wheeling system, but the wheeling system with Lotto Creo Pro filters represents the most intelligent way to win! Lotto Creo offers up to 8 filter categories and also has many statistical graphs, up to 14. Lotto Creo Pro 3.0 is a PREDICTION lottery software. Prediction analyzer searches for the best number combinations based on statistical data generated from previous lottery drawings. This possibility is possessed only by Lotto Creo. Lottery software also works with "hot" numbers (numbers which are drawn more frequently), "cold" numbers (numbers which are overdue to be drawn) and the "last" drawn numbers (all numbers that were drawn in the last drawing). Program helps You to play the lottery in an intelligent and simple way. Software works with lotteries; Pick 4, Pick 5, Pick 6, Pick 7 and comes with over 100 US & international lotteries. The quality of Lotto Creo Pro 3.0 is proved by many awards assigned by the shareware sites! DOWNLOAD NOW most award winning lottery software.
This software is a shareware. You will be able to download and test Lotto Creo during a certain period of time, then, if it does what you need, you will have to acquire the full version. The trial version available for download on www.softandco.com has a size of 3992 KBytes. For additional information and support request, please contact directly Lotto Creo publisher.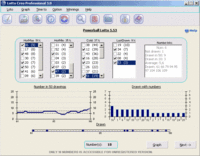 Lotto Creo 4.0 was released by SKFsoft on Saturday 13 December 2003. Its known requirements are : Pentium 133, 32 MB RAM, VGA 800x600.
Lotto Creo will run on Windows 95, Windows 98, Windows Me, Windows 2000 and Windows XP.
Downloads (9697)
4.0
Saturday 13 December 2003