Internet :
Communications :
FaxTalk NetOnHold 2.0

With FaxTalk NetOnHold 2.0 Modem On Hold software and your V.92 modem* you can pause your internet connection to place and receive calls. Using the Modem On Hold features of your V.92 modem and Call Waiting service from your phone company, FaxTalk NetOnHold provides the ability to place an Internet connection on hold so you can receive or place a call. Now surfing the internet doesn't mean you have to miss important calls or order expensive additional phone lines, you can just put the Internet "on hold".
Many households use the same phone line for both voice calls and the Internet, so when you're browsing the Internet, an incoming call cannot get through. Today's V.92 based modems support a feature called Modem on Hold that allows you to receive an incoming call or place outgoing calls while still connected to the Internet. It's like Internet Call Waiting! FaxTalk NetOnHold works with the Modem On Hold capabilities found in V.92 modems to provide the ability to place an Internet connection "on hold" and receive incoming calls or place outgoing calls.
This software is a commercial software. You will be able to download and test FaxTalk NetOnHold during a certain period of time, then, if it does what you need, you will have to acquire the full version. The trial version available for download on www.softandco.com has a size of 2588 KBytes. For additional information and support request, please contact directly FaxTalk NetOnHold publisher.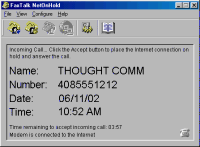 FaxTalk NetOnHold 2.0 was released by Thought Communications on Wednesday 26 March 2003. Its known requirements are : Intel Pentium or equivalent running at 166mhz or higher with 32 MB of RAM.
FaxTalk NetOnHold will run on Windows 95, Windows 98, Windows Me, Windows 2000, Windows NT and Windows XP.
Downloads (4238)
2.0
Wednesday 26 March 2003