$trike 4D! 2.0
Lottery games are random but patterns can still be observed from the numbers that are randomly drawn for different periods of time. $trike 4D! is a cool, powerful and comprehensive lottery software that allows you to scrutinize the various statistical and graphical analysis and to identify the patterns for any 4D, Pick3 and Pick4 lottery games in the world such as Singapore 4D, Malaysia Magnum 4D, Canada Daily3 and USA Daily3, Pick3, Pick4, Cash3, Win4, Play4 games. Based on these patterns, you can pick your numbers intelligently or narrow your field of play, thereby reducing your odds and increasing your chances of winning! The Golden Numbers feature also helps you in choosing the numbers based on the current patterns. You can search for any number to see its past performance and you may also use our QuickPick function to randomly generate your number with its detailed statistics. Export function is also available for you to save the information into Excel (CSV) files or text files. Various worldwide lottery games are supported and the latest results can be easily and automatically updated @ a click of a button. You can also create your database for your favourite lottery game. Read our testimonial on our website and start playing your favourite lottery with an advantage!
This software is a shareware. You will be able to download and test $trike 4D! during a certain period of time, then, if it does what you need, you will have to acquire the full version. The trial version available for download on www.softandco.com has a size of 6935 KBytes. For additional information and support request, please contact directly $trike 4D! publisher.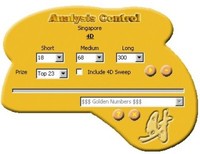 $trike 4D! 2.0 was released by Pastime Software on Saturday 22 March 2003. Its known requirements are : At least 6MB disk space.
$trike 4D! will run on Windows 95, Windows 98, Windows Me, Windows 2000, Windows NT and Windows XP.
Downloads (1209)
2.0
Saturday 22 March 2003