Avast! 4 Home Edition 4.7.1001
Avast! 4 Home Edition is a free and complete ICSA certified antivirus software for non-commercial home use. avast! continues to achieve Virus Bulletin VB100% awards, with an uninterrupted record of wins for over two years, which not all competitors can claim.
avast! Home Edition includes the following components:
On Demand Scanner - with Skinnable Simple Interface - just select what you want to scan, in which way, and press the Play button.
On-Access Scanner - with special providers to protect: most available E-mail clients, Instant Messaging - ICQ, Miranda etc., Network traffic - Intrusion Setection, P2P protection for Kazza, BitTorrent etc., Web shield - monitors and filter all HTTPtraffic, NNTP Scanner - scans all Usenet Newsgroup traffic and of course all operations on PC files.
avast! can scan inside the huge number of different packers including ZIP, ARJ, RAR etc. even Outlook Express .dbx files.
Boot-Time Scanner - scans disks in the same way and in the same time as Windows CHKDSK does (on NT/2000/XP only). Screen Saver Scanner - scans PC during your coffee breaks. Virus Chest - safe, isolated folder to store infected, suspicious and even some system files - to restore them.
True incremental updates mean that, unlike some other antivirus solutions, automatic updates are small and therefore quick to download - and most updates never require a system restart: so just set the program to automatically keep you up-to-date, and the it just works.
avast! 4 Home is available in English, French, German, Italian, Japaneese, Polish, Portuguese, Russian, Spanish... altogether over 20 languages - check http://www.avast.com/eng/down_home.html to download avast! in your language. You will download a 60 days fully functional demo. You will obtain the FREE license key by E-mail after the registration at http://www.avast.com/i_kat_207.php?lang=ENG.
This software is a commercial software. You will be able to download and test Avast! 4 Home Edition during a certain period of time, then, if it does what you need, you will have to acquire the full version. The trial version available for download on www.softandco.com has a size of 14856 KBytes. For additional information and support request, please contact directly Avast! 4 Home Edition publisher.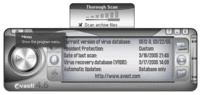 Avast! 4 Home Edition 4.7.1001 was released by ALWIL Software on Wednesday 04 July 2007. Its known requirements are : plus 32 MB RAM.
Avast! 4 Home Edition will run on Windows 95, Windows 98, Windows Me, Windows 2000, Windows NT and Windows XP.
Downloads (4021)
4.7.1001
Wednesday 04 July 2007