Internet :
Connectivity :
RASMaster 1.10
RASMaster is a complete RAS connection manager for dialup or DSL PPOE Internet accounts. RASMaster combines an Internet reconnection utility, IP notifier, dialup scheduler, and an Internet keep-alive tool into a single utility. RASMaster's keep-alive and reconnection tools are designed to keep your Internet connection active. The keep-alive feature simulates Internet activity to keep your Internet provider from disconnecting you, while the reconnection tool will automatically re-dial your connection if you are disconnected. The IP Notifier allows you to be notified or your website updated if your IP changes. The notifications can be sent through email, email pages, web pages (with FTP upload), and through program/script launching. Finally, RASMaster includes a basic dialup scheduler, which allows for a daily time to dial the Internet connection.
This software is a shareware. You will be able to download and test RASMaster during a certain period of time, then, if it does what you need, you will have to acquire the full version. The trial version available for download on www.softandco.com has a size of 878 KBytes. For additional information and support request, please contact directly RASMaster publisher.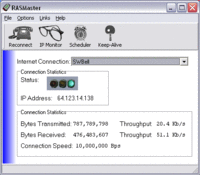 RASMaster 1.10 was released by AcroVista Software on Saturday 30 March 2002. Its known requirements are : 386 or higher, 32 MB RAM.
RASMaster will run on Windows 95, Windows 98, Windows Me, Windows 2000, Windows NT and Windows XP.
Downloads (1127)
1.10
Saturday 30 March 2002