Development :
Web Authoring :
Advertise With Pleasure, AWP 2.0
Advertise With Pleasure! (AWP) version 2.0 is a Banner Advertisement package that is easy to use and will simplify your banner campaign. This program is great for all you web site owners out there who would like to make money by selling banner space on your web site. Please try similar systems and make sure that our product is the best!
Some Features of AWP v2.0:
Easy to install with installation script Low cost Pretty administrative interface Smart & Easy to use interface Don't need SSI Customizable output such as font size, border size, target frame, etc. Password protected Administration area Complete Statistics on impressions, Click Thru Ratio's (CTR), and impressions left. Browser uploading for banner ad graphics with file type and size checking (i.e. GIF image at 468x60) Support following banner formats: GIF, JPG, PNG, BMP, RPM, MOV, Java, Flash, Text and HTML You may setup title, status text & text below image of banners Multibanner support. Each banner group can has own dimensions, weights for banners. Manage advertise zones The default Banner Exchange ad automatically replaces any missing banners in the rotation User can choose banners what will be shown on his site Full control on script variables via WEB-form TextExchange feature: Just-text-ads exchange. Has tickerline style. Tracking stats in your local time measuring Automatic rotation of banner ads And many other features...!
System Requirements: UNIX or Windows NT/2000/XP Perl mySQL
This software is a shareware. You will be able to download and test Advertise With Pleasure, AWP during a certain period of time, then, if it does what you need, you will have to acquire the full version. The trial version available for download on www.softandco.com has a size of 149 KBytes. For additional information and support request, please contact directly Advertise With Pleasure, AWP publisher.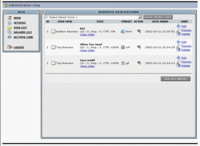 Advertise With Pleasure, AWP 2.0 was released by GuruPerl on Sunday 12 January 2003. Its known requirements are : mySQL, perl.
Downloads (709)
2.0
Sunday 12 January 2003