Tri-Towers 2.1.5.5

The cardgame Fun-Towers is a popular cardgame. for young and old. 24 levels with growing difficulty, cards in sequence bonus, level complete bonus, time bonus, time left bonus, cards left bonus, extra life, bonus level, hiscore, high run hiscore, training-mode, joker, and much more... Goal of the game Fun-Towers is to remove all cards from the field. To remove a card it's value must be either higher or lower as the one card beside the stack. A real alternative for all solitair cardgames friends.
This software is a shareware. You will be able to download and test Tri-Towers during a certain period of time, then, if it does what you need, you will have to acquire the full version. The trial version available for download on www.softandco.com has a size of 7184 KBytes. For additional information and support request, please contact directly Tri-Towers publisher.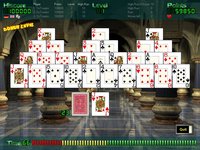 Tri-Towers 2.1.5.5 was released by Bernd Karle Hard-Softwareentwicklung on Wednesday 09 September 2009. Its known requirements are : min. 800x600 pixel screen resolution, best 1024x768 true color.
Tri-Towers will run on Windows 95, Windows 98, Windows Me, Windows 2000, Windows NT and Windows XP.
Downloads (6808)
2.1.5.5
Wednesday 09 September 2009