BrowserStar 2.8s

BrowserStar is your personal browser expert for Internet Explorer! BrowserStar can remove internet traces, for example by clearing unwanted cookies. Furthermore BrowserStar can clean your browser's history and empty your browser-cache. BrowserStar also manages for your browser's Favorites so you'll be able to check, remove and edit each internet link. BrowserStar allows you to change and modify hidden settings of your Internet Explorer. The program can automate all main functions, too. For example it can clear all cookies on Windows startup. The program offers you a friendly user interface and plenty of detailed information for every function. So it's also fine for computer-newbies.
This software is a shareware. You will be able to download and test BrowserStar during a certain period of time, then, if it does what you need, you will have to acquire the full version. The trial version available for download on www.softandco.com has a size of 1173 KBytes. For additional information and support request, please contact directly BrowserStar publisher.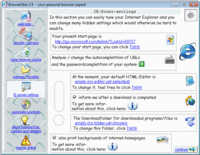 BrowserStar 2.8s was released by Abelssoft on Sunday 09 September 2012.
BrowserStar will run on Windows 95, Windows 98, Windows Me, Windows 2000, Windows NT and Windows XP.
Downloads (1730)
2.8s
Sunday 09 September 2012