HotBar 2.05

The VisualSoft HotBar makes it easy to open You favorites program, such as Internet Explorer window, read your e-mail, or access frequently used programs.
This software is a shareware. You will be able to download and test HotBar during a certain period of time, then, if it does what you need, you will have to acquire the full version. The trial version available for download on www.softandco.com has a size of 1059 KBytes. For additional information and support request, please contact directly HotBar publisher.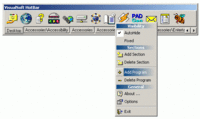 HotBar 2.05 was released by VisualSoft on Saturday 30 March 2002. Its known requirements are : VB6 Runtime.
HotBar will run on Windows 95, Windows 98, Windows Me, Windows 2000, Windows NT and Windows XP.
Downloads (4859)
2.05
Saturday 30 March 2002