IconLover 5.18

Whether you are a professional icon designer, software developer or you simply like to customize your desktop and folders, you will love this icon editor.
IconLover is an all-in-one solution providing tools to create, edit, manage, store, search, import, download and convert icons and cursors of various formats including packed Windows Vista icons.
The icon software has all the necessary features that will satisfy an experienced designer: "Layers" design model, alpha-blending, a wide range of special effects, sophisticated transformations, etc.
No more switching between several applications! IconLover has all you need and shows it all in the same window using the popular tabbed interface. You can have an editor window in one tab and a browser window in another. It's easier than ever thanks to a superbly efficient interface. IconLover saves time. Browse icon libraries, import icons from various resources (executables, dynamic link libraries, image collections) by simply clicking tabs in the IconLover window. Icon-Lover supports drag-and-drop. Drag files right from your Windows Explorer windows.
Need to import multiple icons all at once? Want to convert multiple files into icons? Nothing could be easier. IconLover supports batch operations! You can accurately convert large collections with only a few mouse clicks. IconLover can work with a vast variety of formats. Convert to and from BMP, JPEG, GIF, PNG, TIFF, WMF, WBMP, CUR and more. Now you can even work with Unix icons and cursor resources (XPM and XBM).
IconLover is created by and for designers to make icons. IconLover is made with love!
This software is a shareware. You will be able to download and test IconLover during a certain period of time, then, if it does what you need, you will have to acquire the full version. The trial version available for download on www.softandco.com has a size of 6233 KBytes. For additional information and support request, please contact directly IconLover publisher.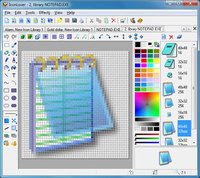 IconLover 5.18 was released by Aha-Soft on Wednesday 22 June 2011. Its known requirements are : 64MB RAM, Pentium-333 MHz, 8MB Hard Disk.
IconLover will run on Windows 95, Windows 98, Windows Me, Windows 2000, Windows NT and Windows XP.
Downloads (1105)
5.18
Wednesday 22 June 2011