Easy Video Splitter 1.01

Easy Video Splitter help you split large AVI/DivX or MPEG(MPG) file into smaller video clips. It provides a built-in preview that allows you to select the section as you view the clip. You can extract multiple segments of any size by using the visual editing mode, or automatically have the program cut the AVI or MPEG file into multiple pieces of equal size. The program does not require any technical experience and is very easy to use. Key Features 1.Can split AVI file, MPEG-4 and DivX are supported; 2.Can split MPEG file, MPEG-1 and MPEG-2 are supported; 3.Split file in two ways -- by customed selections or spliting it into multiple pieces automatically; 4.Work very fast and without any quality loss; 5.Support batch splits, spliting large video file into as many parts as you want; 6.Be very easy to use, No confusing frame calculations or rocket science know-how needed.
This software is a shareware. You will be able to download and test Easy Video Splitter during a certain period of time, then, if it does what you need, you will have to acquire the full version. The trial version available for download on www.softandco.com has a size of 1131 KBytes. For additional information and support request, please contact directly Easy Video Splitter publisher.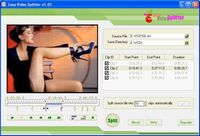 Easy Video Splitter 1.01 was released by DoEasier Tech., Inc on Monday 23 December 2002.
Easy Video Splitter will run on Windows 95, Windows 98, Windows Me, Windows 2000, Windows NT and Windows XP.
Downloads (35276)
1.01
Monday 23 December 2002