Danzig Pref Engine 1.5
Program for playing card game 'preference' (pronounced preferAns), which is very popular in Russia and Eastern Europe. This contract card game is easier than bridge but requires skill, memory and luck. You can play against a computer AI as well as against other people using TCP/IP. Sochi and Leningrad variations + many parameters of the game available.
This software is a shareware. You will be able to download and test Danzig Pref Engine during a certain period of time, then, if it does what you need, you will have to acquire the full version. The trial version available for download on www.softandco.com has a size of 491 KBytes. For additional information and support request, please contact directly Danzig Pref Engine publisher.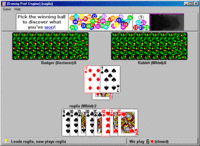 Danzig Pref Engine 1.5 was released by Rugila Software Development Group on Tuesday 17 December 2002.
Danzig Pref Engine will run on Windows 95, Windows 98, Windows Me, Windows 2000, Windows NT and Windows XP.
Downloads (886)
1.5
Tuesday 17 December 2002