ProChat 2.8

ProChat is a real-time chat for home LANs and business Networks. Chat allows secure communication with unlimited users. For connection ProChat uses TCP/IP
protocol stack with IP Multicast feature. This feature allows you to communicate with more than 1 subnets in your corporate lan. No configuration needed for
operation, ProChat is ready for use immedeately after download. ProChat has no server part, so all users have equal access for all functions. In order to help with
communication with many people, ProChat allows you to use channels. Also you can create private channel for one-to-one chatting and send instant messages.
There many useful options in ProChat. It has tray icon like an ICQ, and chat window similar to mIRC. There is very easy to understand how to use all features of
ProChat. It is very important in corporate networks with many users. We also test chat for stability and it passes all tests well. Each now version of chat contains
new features, depending on user's opinions. Also new version of ProChat tested under newest Windows XP operating system.
This software is a shareware. You will be able to download and test ProChat during a certain period of time, then, if it does what you need, you will have to acquire the full version. The trial version available for download on www.softandco.com has a size of 762 KBytes. For additional information and support request, please contact directly ProChat publisher.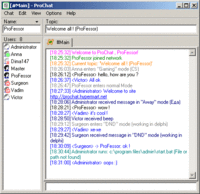 ProChat 2.8 was released by ProGressive Networks on Tuesday 17 December 2002.
ProChat will run on Windows 95, Windows 98, Windows Me, Windows 2000, Windows NT and Windows XP.
Downloads (5020)
2.8
Tuesday 17 December 2002