NetSearch 1.2
NetSearch is a powerful utility designed to search local area networks (LAN)for all kinds of files. In contrast to standard Microsoft Windows© file search utility and other LAN scanning programs, NetSearch allow view all hidden sharing and search in them. In additional you can select target of scanning from whole network to any folder in any computer. You can be very surprised contents of hidden shares in your network. The program can search for specific domain name, computer name, sharing (include hidden sharing), files, files of a certain kind (e.g. it can find all MP3 or video files in your network) or for files which contain specific text. NetSearch features a fast search engine, ability to changes search target in scanning process, full control of program using resources and much more.
This software is a shareware. You will be able to download and test NetSearch during a certain period of time, then, if it does what you need, you will have to acquire the full version. The trial version available for download on www.softandco.com has a size of 216 KBytes. For additional information and support request, please contact directly NetSearch publisher.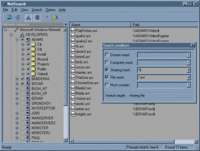 NetSearch 1.2 was released by Gamayun Soft Ltd. on Friday 15 August 2003. Its known requirements are : LAN.
NetSearch will run on Windows 95, Windows 98, Windows Me, Windows 2000, Windows NT and Windows XP.
Downloads (966)