1939:BattleFleet 2.13.0.3

Naval turn-based WW2 simulation game, extension to the classic Battleships game where ships/planes/subs can move. Contains over 60 missions & campaigns and 40 ship, submarine, airplane & port artillery types, with combat maps up to 96X96 large. Game objectives: conquer all enemy major ports, defend your ports, destroy enemy ships, secure transport convoy to the friendly port.
This software is a shareware. You will be able to download and test 1939:BattleFleet during a certain period of time, then, if it does what you need, you will have to acquire the full version. The trial version available for download on www.softandco.com has a size of 5078 KBytes. For additional information and support request, please contact directly 1939:BattleFleet publisher.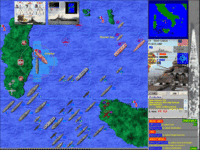 1939:BattleFleet 2.13.0.3 was released by SLS - Strategy Lights Systems on Thursday 19 July 2007. Its known requirements are : 28 MB RAM, 10MB HDD.
1939:BattleFleet will run on Windows 95, Windows 98, Windows Me, Windows 2000, Windows NT and Windows XP.
Downloads (3541)
2.13.0.3
Thursday 19 July 2007