Development :
Web Authoring :
Hello Engines! 7.1.4

Hello Engines! is a multi-awarded optimization tool which helps you to find all weaknesses and strengths of your website and to optimize it for search engines.
It detects all errors in the HTML code, broken links, errors in the sitemap and robots.txt files etc. In addition, all important ranking factors are checked, so that you can directly see what you need to improve for a better position for specific keywords and keyword sets. Select a primary search engine like Google for which your website should be optimized.
The integrated tools like a HTML Editor, Link Checker and Robots.txt Editor help to correct them immediately. The corrections can be done directly on your server or on your local system.
A Rating section allows you to compare your results to those of others and to see at a glance which parts are not yet optimized.
Hello Engines! checks in which search engines around the world you are listed and allows you to submit your website to those where you are not already indexed. Thus, you will receive important links to your site.
Customized reports with your own logo and formatting show all relevant analysis results and allow you to compare your own site to competitor websites. In addition, detailed status reports and a history document the success of your submissions.
With Hello Engines! 7 you can ensure that your website is technically error-free and get a better ranking in the most important search engines and thus get more visitors and sales with your website project.
This software is a commercial software. You will be able to download and test Hello Engines! during a certain period of time, then, if it does what you need, you will have to acquire the full version. The trial version available for download on www.softandco.com has a size of 7635 KBytes. For additional information and support request, please contact directly Hello Engines! publisher.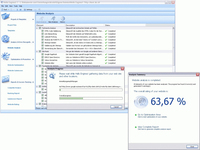 Hello Engines! 7.1.4 was released by AceBIT on Friday 26 February 2010. Its known requirements are : Windows 98/Me/2000/XP/2003 Server/Vista/7.
Hello Engines! will run on Windows Me, Windows 2000, Windows NT and Windows XP.
Downloads (979)
7.1.4
Friday 26 February 2010