Onscreen Ping Pong 1.2

This is an two player ping-pong. Play ping pong among all other windows on your system. Use [A]-[Z] to control left player's bar, and [']-[/] to control right player's bar.
This software is a shareware. You will be able to download and test Onscreen Ping Pong during a certain period of time, then, if it does what you need, you will have to acquire the full version. The trial version available for download on www.softandco.com has a size of 300 KBytes. For additional information and support request, please contact directly Onscreen Ping Pong publisher.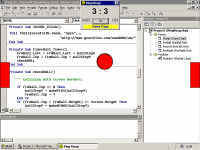 Onscreen Ping Pong 1.2 was released by Douglas Paul Adams LLC on Monday 02 December 2002. Its known requirements are : 16 megs of ram or more.
Onscreen Ping Pong will run on Windows 95, Windows 98, Windows Me, Windows 2000, Windows NT and Windows XP.
Downloads (5387)
1.2
Monday 02 December 2002