Development :
Web Authoring :
Flash Saver 5.5

Flash Saver is designed to fulfill your requirement of saving Flash animations to your hard disk by a simple click. The New Version can not only save Flash animations from the current web page you are surfing, but also it can search from local cache files and list all Flash files that was viewed recently. It can also help you classify downloaded Flash files into categories and manage them efficiently. New features: 1) Add download schedule bar. 2) Add search function in "Detect from cache" and "Detect from web page" 3) Flash player can change the playing schedule 4) More stable download management 5) Revise the bug that it can not detect web site address, when it installs google toolbar. 6) Fix some bugs Main features: *Support user-defined, arbitrary, multi-leveled sorts. Each has the stranger classification function. *The "flash item" directory daggling function. The downloaded directory can be daggled into other sorts at any moment; meanwhile the physics document on the hard disk will be also moved. *The view mode can be classified into the custom directory view mode and the system directory view mode. *With the independent "flash player" and can choose an external flash player to joint with your program. *Right click the page and choose "save flash in this webpage", your needed flash will be listed in the pop-up window. *Strengthen flash preview control function. Not only a plan bar can show the preview plan, but also can adjust it by you. *Rename. The downloaded flash item can be renamed; meanwhile the physics document on the hard disk will be also renamed. *Probe all Flash items in web pages; *Probe all Flash items in cache *Download a flash file directly (add a task) *Hanging window; *Optional styles: Windows XP/Custom Windows Style
This software is a shareware. You will be able to download and test Flash Saver during a certain period of time, then, if it does what you need, you will have to acquire the full version. The trial version available for download on www.softandco.com has a size of 3139 KBytes. For additional information and support request, please contact directly Flash Saver publisher.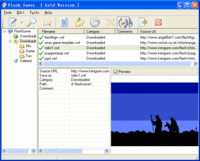 Flash Saver 5.5 was released by Flash Saver on Tuesday 04 October 2005. Its known requirements are : 32M,higher than Internet Explorer5.0,Internet Connection.
Flash Saver will run on Windows 95, Windows 98, Windows Me, Windows 2000, Windows NT and Windows XP.
Downloads (5062)
5.5
Tuesday 04 October 2005