ABC Wallpaper Machine 2.20.0550

ABC Wallpaper Machine is image creator, desktop calendar and wallpaper manager in one. You have many possibilities to customize the program. You may choose if you prefer to see a calendar showing the current month. Current day is marked by a red square. You have several plugins to choose from in the base version. More plugins are available for download from the programs homepage. The plugin "User Pics" allows you to use your own images, maybe files from your digital camera, scanned photographs or paintings or other image files. Simply check your favorite themes in the program's list. The program will randomly select a theme each time.
This software is a shareware. You will be able to download and test ABC Wallpaper Machine during a certain period of time, then, if it does what you need, you will have to acquire the full version. The trial version available for download on www.softandco.com has a size of 4472 KBytes. For additional information and support request, please contact directly ABC Wallpaper Machine publisher.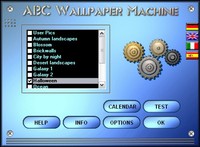 ABC Wallpaper Machine 2.20.0550 was released by Jutta Behling, ABC-Ware on Wednesday 17 November 2004. Its known requirements are : 16 Mio colors recommended.
ABC Wallpaper Machine will run on Windows 95, Windows 98, Windows Me, Windows 2000, Windows NT and Windows XP.
Downloads (1362)
2.20.0550
Wednesday 17 November 2004