Easy Video Joiner 5.21

Easy Video Joiner can help you join multiple AVI, MPEG (MPG), RM (Real Media) or WMV/ASF (Window Media) files into one large movie file. You can add an unlimited number of video files as you like to the list and easily rearrange their order if needed. With just a few mouse clicks, you can enjoy your movie clips without interruption. It can also join most audio files with popular format (*.mp3, *.rm, *.wma, *.wav). Key features: 1. Can join AVI files(*.avi, *.wav), MPEG-4 and DivX are supported; 2. Can join MPEG files(*.mpeg, *.mpg, *.m2p, *.m1v, *.m2v, *.mp3, *.mpga), MPEG-1 and MPEG-2 are supported; 3. Can join Real Media files(*.rm, *.ram); 4. Can join Windows Media files(*.wmv, *.asf, *.wma) (New feature in Version 4.01); 5. Not only join video files, but also join most audio files with popular format(*.mp3, *.mpga, *.rm, *.wma, *.wav); 6. Very easy to use and very fast to work.
This software is a shareware. You will be able to download and test Easy Video Joiner during a certain period of time, then, if it does what you need, you will have to acquire the full version. The trial version available for download on www.softandco.com has a size of 3136 KBytes. For additional information and support request, please contact directly Easy Video Joiner publisher.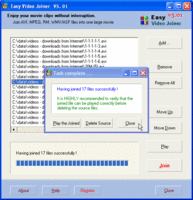 Easy Video Joiner 5.21 was released by DoEasier Tech Inc on Wednesday 02 July 2003. Its known requirements are : Pentium-compatible processor,32 MB RAM, 800x600 screen resolution.
Easy Video Joiner will run on Windows 95, Windows 98, Windows Me, Windows 2000, Windows NT and Windows XP.
Downloads (18969)
5.21
Wednesday 02 July 2003