Internet :
Network Administration :
Ace Password Sniffer 1.4
New version provides candidates of username or password for HTTP post submission.
The most powerful and effetive password sniffer. Ace Password Sniffer can listen on your LAN and enable network administrators or parents to capture passwords of any network user. Currently Ace Password Sniffer can monitor and capture passwords through FTP, POP3, HTTP, SMTP, Telnet, and etc.
Ace Password Sniffer works passively and don't generate any network traffic, therefore, it is very hard to be detected by others. And you needn't install any additional software on other PCs or workstations. If your network is connected through switch, you can run the sniffer on the gateway or proxy server, which can get all network traffic.
This stealth-monitoring utility is useful to recover your network passwords, to receive network passwords of children for parents, and to monitor passwords abuse for server administrators. Features: * Efficient You can see the passwords as soon as it appeared on LAN. * Support Various Protocols Fully support application protocols of FTP, SMTP, POP3, TELNET, etc. That means user names and passwords used to send and receive emails, to log on a web site, or to log on a server, can all be captured and saved. * Support HTTP Protocol Support HTTP protocol, including proxy password, basic http authenticate authoriation and most passwords submitted through HTML, no matter they are encoded by MIME or base64. * Verify whether the captured passwords are valid It can tell whether the passwords are right. You can even get the replies from the server for the login. And it always keeps trying to get valid user name and password pairs.
This software is a shareware. You will be able to download and test Ace Password Sniffer during a certain period of time, then, if it does what you need, you will have to acquire the full version. The trial version available for download on www.softandco.com has a size of 946 KBytes. For additional information and support request, please contact directly Ace Password Sniffer publisher.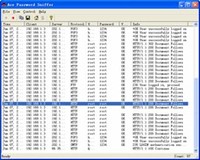 Ace Password Sniffer 1.4 was released by EffeTech Sniffer on Monday 04 February 2008.
Ace Password Sniffer will run on Windows 95, Windows 98, Windows Me, Windows 2000, Windows NT and Windows XP.
Downloads (2459)
1.4
Monday 04 February 2008