Diskeeper Lite 3.0

Diskeeper Lite is a short version introduction to full-featured Diskeeper. Diskeeper Lite can only analyze fragmentation levels and run manual defragmentation on one disk volume at a time. All time and money saving Set It and Forget It® scheduling, system management functions and network controls are shown and explained, but rendered inoperative. This tool will show you how easy the full version is to install and operate across any size network . Diskeeper Lite will help everyone in their selection of the right automated defragmentation software for their homes and/or business sites.
This software is a commercial software. You will be able to download and test Diskeeper Lite during a certain period of time, then, if it does what you need, you will have to acquire the full version. The trial version available for download on www.softandco.com has a size of 10011 KBytes. For additional information and support request, please contact directly Diskeeper Lite publisher.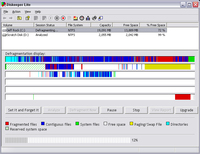 Diskeeper Lite 3.0 was released by Executive Software International Inc. on Wednesday 11 December 2002. Its known requirements are : Intel x86 platform.
Diskeeper Lite will run on Windows 98, Windows Me, Windows 2000, Windows NT and Windows XP.
Downloads (18204)
3.0
Wednesday 11 December 2002