Open Relay Checker 2
This testing tool allows users to scan and check their open relay servers. It tests smtp relays, blind anonymous relays and public proxy lists also. Used by some people at abuse.net and sendmail.org to test open relays. Site Features include : *Open Relay Database *Open Relay Usage Articles *FAQs & How-tos *Closing Relays and Protecting your Mail Server *Anti Spam Tips *Public SMTP List *Server list updated daily *http://www.OpenRelayCheck.com Download the free software and then join our site for only $29 per month.
This software is a commercial software. You will be able to download and test Open Relay Checker during a certain period of time, then, if it does what you need, you will have to acquire the full version. The trial version available for download on www.softandco.com has a size of 3443 KBytes. For additional information and support request, please contact directly Open Relay Checker publisher.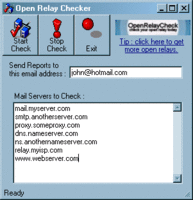 Open Relay Checker 2 was released by Open Relay List Test on Friday 26 July 2002. Its known requirements are : .Net Framework.
Open Relay Checker will run on Windows 95, Windows 98, Windows Me, Windows 2000, Windows NT and Windows XP.
Downloads (8228)