BadCopy Pro 3.80
BadCopy Pro is a fully automatic and professional corrupted floppy disk repair, cd-rom or other local disk data recovery tool working under Windows. It can rescue all kinds of files like documents, images, applications and other data from damaged disks, with intelligent and fast disk fix and data recovery arithmetic, help you get valuable data back.
This software is a shareware. You will be able to download and test BadCopy Pro during a certain period of time, then, if it does what you need, you will have to acquire the full version. The trial version available for download on www.softandco.com has a size of 913 KBytes. For additional information and support request, please contact directly BadCopy Pro publisher.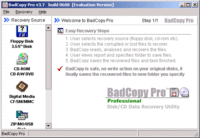 BadCopy Pro 3.80 was released by JufSoft on Friday 22 December 2006.
BadCopy Pro will run on Windows 95, Windows 98, Windows Me, Windows 2000, Windows NT and Windows XP.
Downloads (12864)
3.80
Friday 22 December 2006