Virtual Audio Cable 4.08

VAC is intended to connect several audio applications together in real time. It's like a sound card with hardwired input and output: when an application sends an audio stream to a virtual cable, other applications can record this stream from the other cable end. Thus, you can record and process output of almost any audio application by almost any other audio application. VAC operates like TotalRecorder but is more universal. Use it to create a chains of software synthesizers (Generator, Reality), audio processors, recorders (WaveLab, Sound Forge, Adobe Audition), sequencers (Cakewalk, Cubase), Internet Telephony/Voice applications (Skype) etc. VAC is a native 32- and 64-bit WDM PnP driver and works under Windows 2k/XP/2k3/Vista.
This software is a shareware. You will be able to download and test Virtual Audio Cable during a certain period of time, then, if it does what you need, you will have to acquire the full version. The trial version available for download on www.softandco.com has a size of 271 KBytes. For additional information and support request, please contact directly Virtual Audio Cable publisher.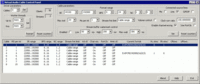 Virtual Audio Cable 4.08 was released by Eugene Muzychenko on Friday 14 September 2007. Its known requirements are : Any suitable for 32- and 64-bit Windows 2k/XP/2k3/Vista system.
Virtual Audio Cable will run on Windows 2000 and Windows XP.
Downloads (3184)
4.08
Friday 14 September 2007