MDaemon Email Server for Windows 11.0.3

MDaemon Email Server for Windows supports IMAP, SMTP, and POP3 protocols and delivers solid performance from its feature-rich and user-friendly design. It has been used by businesses in over 90 countries and over 25 languages worldwide.
A trusted alternative to Microsoft Exchange, the MDaemon mail server software provides outstanding groupware features, integration with Microsoft Outlook (using Outlook Connector for MDaemon) and a multi-language webmail client for email access anywhere.
MDaemon includes a secure instant messaging (IM) client, address book synchronization, email notification, and an email notification tray applet to provide quick access to MDaemon's webmail client email features.
MDaemon supports mailing lists, content filtering, multiple domain support, flexible administration, and an open standards design for mobile access. Its email archiving features safeguard your email messages, while meeting regulations and laws regarding storage management.
The windows mail server supports BlackBerry push email, and provides small businesses with a quick and easy way to connect employees to their work email on BlackBerry smartphones. It also adds mobile email management and controls allowing the email administrator to apply content filter rules, email authentication, archiving requirements, or other settings to comply with a company's security policies.
MDaemon Email Server for Windows incorporates multiple layers of security techniques such as Relay Controls, IP Shielding, SMTP Authentication, and reverse lookups to minimize possible server exploits. It uses the advanced email authentication techniques of Vouch By Reference (VBR), and validates and signs messages using DKIM, DomainKeys, Sender-ID, and SPF. Combined with its anti-spam engine, Bayesian Learning, SSL/TLS, backscatter protection, and SecurityPlus for MDaemon's proactive malware prevention, MDaemon provides layered protection to safeguard your messaging communications.
This software is a shareware. You will be able to download and test MDaemon Email Server for Windows during a certain period of time, then, if it does what you need, you will have to acquire the full version. The trial version available for download on www.softandco.com has a size of 53075 KBytes. For additional information and support request, please contact directly MDaemon Email Server for Windows publisher.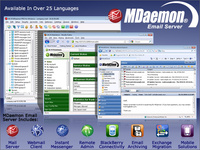 MDaemon Email Server for Windows 11.0.3 was released by Alt-N Technologies, Ltd. on Thursday 05 August 2010. Its known requirements are : PIII 500 MHz, 512 MB RAM.
MDaemon Email Server for Windows will run on Windows 2000 and Windows XP.
Downloads (3676)
11.0.3
Thursday 05 August 2010