Development :
Web Authoring :
FlaX 1.42
FlaX is the sensation of the Flash community. It creates text effects for Macromedia Flash, and does that real-time!
FlaX comes equipped with 31 great special effect groups, which the user can tweak using sliders and buttons, thus being able to create hundreds, if not thousands of unique effects.
Any adjustment made takes effect immediately, which makes FlaX a productivity tool that you can't afford to miss out on. Creating high quality ShockWave material has never been so simple.
Effects which were virtually impossible to create by hand in Flash have now become reality!
FlaX will export your effect in Flash format, so you can import it into Flash for inclusion in your other work, or you can use the effect straight on your web site.
FlaX makes use of user-friendly floating tool windows, which makes the creation of a special effect into a fun job.
This software is a shareware. You will be able to download and test FlaX during a certain period of time, then, if it does what you need, you will have to acquire the full version. The trial version available for download on www.softandco.com has a size of 488 KBytes. For additional information and support request, please contact directly FlaX publisher.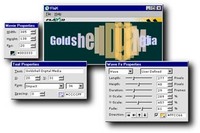 FlaX 1.42 was released by Goldshell Digital Media on Saturday 29 June 2002.
FlaX will run on Windows 95, Windows 98, Windows Me, Windows 2000, Windows NT and Windows XP.
Downloads (11138)
1.42
Saturday 29 June 2002