Internet :
Communications :
Ba!amut ICQ Spider 4.01
Ba!amut ICQ Spider - Internet Marketing, Mass Dispatch, People Search A powerful marketing tool for Internet. Users' search at a filter which you choose, mass dispatch of messages, creation of your own sending databases.
This software is a shareware. You will be able to download and test Ba!amut ICQ Spider during a certain period of time, then, if it does what you need, you will have to acquire the full version. The trial version available for download on www.softandco.com has a size of 5050 KBytes. For additional information and support request, please contact directly Ba!amut ICQ Spider publisher.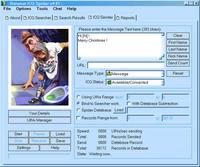 Ba!amut ICQ Spider 4.01 was released by SPS-Group on Wednesday 29 January 2003.
Ba!amut ICQ Spider will run on Windows 95, Windows 98, Windows Me, Windows 2000, Windows NT and Windows XP.
Downloads (1581)
4.01
Wednesday 29 January 2003