ProFTP 3.0
FTP client for windows 2000/XP/2003/VISTA ProFTP. Allows you to transfer files between your PC and remote computer using the ARPANET standard File Transfer Protocol.
The program can transfer files in two different format types: ASCII format is used for text files, and Binary format is used for image files.
FTP must run on a machine that is configured for TCP/IP network communication or Internet access. Access can be gained through Winsock and the use of any dial-up provider, a Remote Access Server (RAS), or a direct connection via a local area network that supports TCP/IP. In order for FTP to communicate with a remote computer, that computer must have a server implementation of FTP (FTP server based on TCP/IP transports).
You can be connected to only one remote computer at a time during a FTP session. However, you can run multiple FTP sessions (FTP clients) simultaneously in separate windows, with each session connected to a different host.
Now FTP connections may be done through existing SSH connection. In FTP's "Passive" mode the "Dynamic Forwarding", the new Telnet/SSH feature, may be used. In FTP's "non-Passive", default, mode the usual Telnet/SSH Forwarding feature may be used. You must use SSHPro software by Labtam to be able to use this feature. XSecurePro software package has this feature as standard.
Download and try it for free.
This software is a shareware. You will be able to download and test ProFTP during a certain period of time, then, if it does what you need, you will have to acquire the full version. The trial version available for download on www.softandco.com has a size of 4331 KBytes. For additional information and support request, please contact directly ProFTP publisher.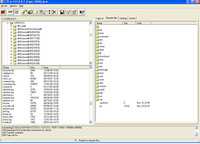 ProFTP 3.0 was released by Labtam Inc. on Friday 09 October 2009. Its known requirements are : A standard IBM compatible PC 16 MB RAM 16 MB free hard disk space Mouse Unit.
ProFTP will run on Windows 2000 and Windows XP.
Downloads (3655)
3.0
Friday 09 October 2009