Internet :
Connectivity :
X-SecurePro 8.4
Secure X-Server for windows with SSH encryption capabilities XSecurePro. Allows to run UNIX (X-Windows) applications on your PC and is an inexpensive but powerful and effective way to transform a standard PC into a fully functional X-terminal. Providing encryption security using the SSH standard from PC to host machine. XSecurePro Package Includes: Secure SSH-2 connection Ciphers: 3DES, Blowfish, DES, RC4 Authentication using password Authentication RSA Connection forwarding, including full support for X-protocol connection forwarding Efficient TCP/IP Network File System: NFS (Client + Server) File transfer programs: FTP and TFTP Remote printing facilities (LPR, LPQ, LPRM) Interactive configuration utilities Telnet virtual terminal emulators (VT52, VT100, VT220, VT240, ANSI, XTERM) Wide range of local X fonts available Network protocols and utilities XSecurePro provides full support for multiple X applications, sophisticated window managers, including TWM, FVWM, Motif, Open Look and desktops like CDE, KDE etc. XSecurePro enables on your PC's screen to work at once with several graphic applications (X clients) executed simultaneously on various network nodes. As a result, a heterogeneous network appears for you as a unified large computer system arranged directly on your desktop. The unique feature "Dynamic Port Forwarding" allows you to start FTP, XStartup/Rexec and other facilities, without direct access to remote hosts, through established SSH connections. Now with SSH-2 protocol support. Featuring XDK (X11 Development Kit). Download and try it for free. Fully functional demo version runs 60 minutes at a time. Registration is $100. For more information about XSecurePro and other Labtam products (x-server for windows XConnectPro and XLitePro, NFS client and server ProNFS, SSH server and client ProSSHD, SSH client SSHPro, FTP client ProFTP) please visit www.Labtam-inc.com
This software is a shareware. You will be able to download and test X-SecurePro during a certain period of time, then, if it does what you need, you will have to acquire the full version. The trial version available for download on www.softandco.com has a size of 20555 KBytes. For additional information and support request, please contact directly X-SecurePro publisher.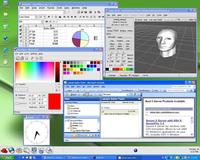 X-SecurePro 8.4 was released by Labtam Inc. on Friday 09 October 2009. Its known requirements are : A standard IBM compatible PC, 32 MB RAM, 32 MB free hard disk space, Mouse unit.
X-SecurePro will run on Windows 2000 and Windows XP.
Downloads (791)
8.4
Friday 09 October 2009