RaidenFTPD 2.4.3405
A full featured & secured ftp server with many advanced functionalities such as SSL , 64-bit addressing , UPnP , scripting interface and of course , full sets of FTP commands support , besides that , the performace is relatively high , anyone with 100m bit network can easily get 8000-1000k byte/sec transfer speed .
This software is a shareware. You will be able to download and test RaidenFTPD during a certain period of time, then, if it does what you need, you will have to acquire the full version. The trial version available for download on www.softandco.com has a size of 4790 KBytes. For additional information and support request, please contact directly RaidenFTPD publisher.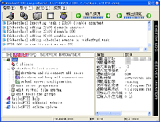 RaidenFTPD 2.4.3405 was released by Team Johnlong on Tuesday 15 May 2007. Its known requirements are : TCP/IP network.
RaidenFTPD will run on Windows 98, Windows Me, Windows 2000 and Windows XP.
Downloads (2709)
2.4.3405
Tuesday 15 May 2007