Power Spike - Icewind Dale 1.25
Icewind Dale character editor. This program was the first in line of programs that I hope to continue as time goes on - the Power Spike game editors. They're intended to be quick and dirty editors that will do most of the things you want to do in a game editor. This one edits the savegame file for Icewind Dale. ALWAYS make a backup of your game before you use ANY editor on it!!!!!!
This software is a commercial software. You will be able to download and test Power Spike - Icewind Dale during a certain period of time, then, if it does what you need, you will have to acquire the full version. The trial version available for download on www.softandco.com has a size of 412 KBytes. For additional information and support request, please contact directly Power Spike - Icewind Dale publisher.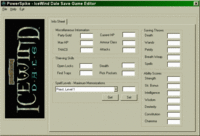 Power Spike - Icewind Dale 1.25 was released by ZeroMassEngine on Thursday 18 April 2002.
Power Spike - Icewind Dale will run on Windows 98, Windows Me, Windows 2000 and Windows XP.
Downloads (11958)
1.25
Thursday 18 April 2002