Flip Flop 1.05

Gambling oriented casion game; does not require real money! FlipFlop is a simple gambling game derived from a mini-game seen years ago in a Commodore 64 product called Legacy of the Ancients! FlipFlop has been revamped and refitted for modern times! Enjoy!
This software is a commercial software. You will be able to download and test Flip Flop during a certain period of time, then, if it does what you need, you will have to acquire the full version. The trial version available for download on www.softandco.com has a size of 3819 KBytes. For additional information and support request, please contact directly Flip Flop publisher.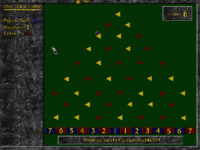 Flip Flop 1.05 was released by ZeroMassEngine on Thursday 18 April 2002. Its known requirements are : Window 98, DirectX 5.0+, Audio Card, Video Card.
Flip Flop will run on Windows 98, Windows Me and Windows XP.
Downloads (686)
1.05
Thursday 18 April 2002