X-Cleaner 4.0.0
Block "spy" software from tracking and logging your activities online. Permanently erase the digital foot prints left behind when you surf the Internet. Permanently erase potentially embarrassing files downloaded to your computer. Scans for viruses and trojans that many anti-virus programs miss Protect your privacy. No installation required - simply download and use.
Extra features: - Detect snooping software like KeyKey, Spector, SubSeven trojan, Bigbrother, WinwhatWhere, savekeys... - Remove "Adware" like Aureate,Conducent Cydoor, TopText, Gator, - manage the list of automatically starting program. - Secure file shredder - Generates secure passwords - Find and remove "lost" images - Protects Browser start page from being changed by porn sites - Examine all Internet Connections being made from/to your Pc - Lots of other options
Works on most programs (Netscape, Internet Explorer, AOL, ICQ, AIM, ACDSEE, Paint Shop, Office...)
This software is a shareware. You will be able to download and test X-Cleaner during a certain period of time, then, if it does what you need, you will have to acquire the full version. The trial version available for download on www.softandco.com has a size of 444 KBytes. For additional information and support request, please contact directly X-Cleaner publisher.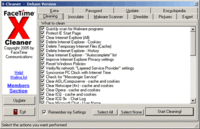 X-Cleaner 4.0.0 was released by XBlock.com on Wednesday 20 October 2004. Its known requirements are : Windows Pc.
X-Cleaner will run on Windows 95, Windows 98, Windows Me, Windows 2000, Windows NT and Windows XP.
Downloads (7020)
4.0.0
Wednesday 20 October 2004