Active Desktop Wallpaper 1.1
Transform your desktop to an exciting picture gallery. Three wallpaper change modes available: manual, cycling or around-the-clock list. Create list of wallpapers easily, add pictures and text to any wallpaper with instant outcome, export wallpapers.
This software is a shareware. You will be able to download and test Active Desktop Wallpaper during a certain period of time, then, if it does what you need, you will have to acquire the full version. The trial version available for download on www.softandco.com has a size of 1361 KBytes. For additional information and support request, please contact directly Active Desktop Wallpaper publisher.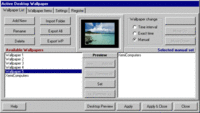 Active Desktop Wallpaper 1.1 was released by XemiComputers Ltd. on Thursday 18 April 2002.
Active Desktop Wallpaper will run on Windows 95, Windows 98, Windows Me, Windows 2000 and Windows NT.
Downloads (2345)
1.1
Thursday 18 April 2002