Home and Hobby :
Education :
WordWeb 6.71

WordWeb is a powerful free English thesaurus and dictionary. Find definitions and synonyms, as well as various sets of related words, with one-click look up in almost any Windows program. The database has over 150 000 root words. If you are online you can also easily check web references such as the Wikipedia encyclopedia.
This software is a commercial software. You will be able to download and test WordWeb during a certain period of time, then, if it does what you need, you will have to acquire the full version. The trial version available for download on www.softandco.com has a size of 18957 KBytes. For additional information and support request, please contact directly WordWeb publisher.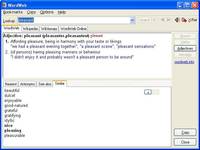 WordWeb 6.71 was released by WordWeb Software on Wednesday 26 October 2011.
WordWeb will run on Windows 2000 and Windows XP.
Downloads (28818)
6.71
Wednesday 26 October 2011