WinHex 13.2

WinHex is a hexadecimal editor for Windows 95/98/Me/NT/2000/XP with a lot of features:
* Disk editor (logical & physical, supports FAT16, FAT32, NTFS, and CDFS) * RAM editor - a means to edit other processes' virtual memory * Data Interpreter, knowing 19 data types * Editing data structures using templates * Concatenating, splitting, unifying, analyzing, and comparing files * Particularly flexible search and replace functions * Automation of file editing * Sophisticated undo mechanism * Drive imaging & drive cloning * 128-bit encryption, MD5, 256-bit digests, CRC32, checksums * Import of all clipboard formats * Conversion formats: Binary, Hex ASCII, Intel-Hex, and Motorola-S * Printing * Deleting files irreversibly (e.g. such with confidential contents) * Instant window switching * Random-number generator * Complete online help and much more
WinHex has minimal system requirements, operates very fast, needs little memory and is easy to use. An excellent computer forensics tool.
This software is a shareware. You will be able to download and test WinHex during a certain period of time, then, if it does what you need, you will have to acquire the full version. The trial version available for download on www.softandco.com has a size of 1145 KBytes. For additional information and support request, please contact directly WinHex publisher.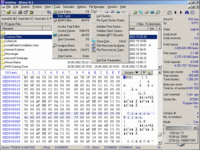 WinHex 13.2 was released by X-Ways Software Technology AG on Monday 18 September 2006.
WinHex will run on Windows 95, Windows 98, Windows Me, Windows 2000, Windows NT and Windows XP.
Downloads (6885)
13.2
Monday 18 September 2006