BulletProof FTP Server 2.15
BPFTP Server is a powerful FTP Server for business, corporate or even home use. Both easy to use through a fully graphical control method and powerful with control over everything! BPFTP Server has all RFC-959 features plus many other options, such as resuming upload / download, viewing server activity in real time, ban, kick, anti hammering, ratio, quota groups management, event manager, real time statistics generator, top 10 user, virtual directories, Chat...
This software is a shareware. You will be able to download and test BulletProof FTP Server during a certain period of time, then, if it does what you need, you will have to acquire the full version. The trial version available for download on www.softandco.com has a size of 1225 KBytes. For additional information and support request, please contact directly BulletProof FTP Server publisher.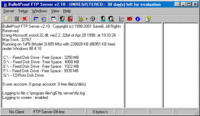 BulletProof FTP Server 2.15 was released by BulletProof Software on Wednesday 17 April 2002.
BulletProof FTP Server will run on Windows 95, Windows 98, Windows Me, Windows 2000, Windows NT and Windows XP.
Downloads (20649)
2.15
Wednesday 17 April 2002