Free Mp3 Format ActiveX DLL 1.0
Free DLL packed with Mp3 To Wave Conversion Functions, Wave To Mp3 Conversion Functions and other Audio Format Exchange Functions for Windows Development. Uses Blade Encoder, M.A.D Decoder and Wave To Wave Audio Format Exchange using S.O.X Sound eXchange. Universal Sound Sample Translator. Lets programmers handle long file names (paths) and also provides compact wav-to-mp3 or mp3-to wav functions.
This software is a commercial software. You will be able to download and test Free Mp3 Format ActiveX DLL during a certain period of time, then, if it does what you need, you will have to acquire the full version. The trial version available for download on www.softandco.com has a size of 1106 KBytes. For additional information and support request, please contact directly Free Mp3 Format ActiveX DLL publisher.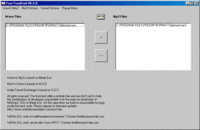 Free Mp3 Format ActiveX DLL 1.0 was released by United Research Labs on Wednesday 17 April 2002. Its known requirements are : Visual Basic 6.0 for Evaluating Examples.
Free Mp3 Format ActiveX DLL will run on Windows 95, Windows 98, Windows Me, Windows 2000, Windows NT and Windows XP.
Downloads (5380)
1.0
Wednesday 17 April 2002