Customizer XP 1.8.5
Customizer XP is an integrated suite of programs that can help you to tweak your Windows 95 OSR2, 98, ME, NT, 2000 and XP to its fullest potential performance or just keep it running like new. It offers a wide range possibility to customize and optimize your Windows program. Whether you want to tweak your Windows registry, cleanup your harddisk, or increase your multimedia and 3D games performance, Customizer XP will does it all for you!
This software is a shareware. You will be able to download and test Customizer XP during a certain period of time, then, if it does what you need, you will have to acquire the full version. The trial version available for download on www.softandco.com has a size of 3069 KBytes. For additional information and support request, please contact directly Customizer XP publisher.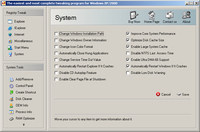 Customizer XP 1.8.5 was released by Tweak Now on Friday 20 September 2002.
Customizer XP will run on Windows 95, Windows 98, Windows Me, Windows 2000, Windows NT and Windows XP.
Downloads (9426)
1.8.5
Friday 20 September 2002