Messenger Plus 1.1.4
Messenger Plus is a powerful tool that enhances your generic AOL Instant Messenger software (AIM) and gives you features you can't find anywhere else! Messenger Plus manages your IMs and chats in a feature-rich window. Here are a few of the features: Enhanced IMs and Chat Rooms - With Messenger Plus, all your IMs and chat conversations are organized into one easy window with a multitude of features at your fingertips! Color Fade your Conversations - Messenger Plus has a color fader so you can blend your text colors and show off to your friends in your IMs and chat conversations! Hide the Buddy List Ads - Messenger Plus hides the annoying ads on the buddy list and replaces it with a useful and feature-rich menu. Now you can access all of Messenger Plus's features from the buddy list! IM and Chat Logging - Automatically record your conversations with our logging features! News in your IM Window - With the click of a button you can have the latest late-breaking news right inside your IM window! Send Files Easier - Want to send a file to a friend? Simply drag and drop the file onto the IM tab and Messenger Plus fills out the path for you! Save Buddy Email Addresses - Using the Buddy Notes feature, you can now save the email addresses of the people you talk to. Extensive Customization Options - Messenger Plus comes packed with tons of customization options, so you can adjust it to your preferences. Buddy Nicknames - Assign Nicknames to your friends - A fun tool and an easy way to remember people online! And So Much More! Words simply don't do justice in describing the richness of the features in Messenger Plus. The best way is to simply download and experience the fun, easy-to-use features of Messenger Plus!
This software is a shareware. You will be able to download and test Messenger Plus during a certain period of time, then, if it does what you need, you will have to acquire the full version. The trial version available for download on www.softandco.com has a size of 2932 KBytes. For additional information and support request, please contact directly Messenger Plus publisher.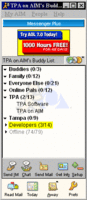 Messenger Plus 1.1.4 was released by TPA Software on Saturday 03 August 2002. Its known requirements are : Pentium 166, 32 MB RAM.
Messenger Plus will run on Windows 95, Windows 98, Windows Me, Windows 2000 and Windows XP.
Downloads (41352)
1.1.4
Saturday 03 August 2002