Cursor Hider 1.7.1.34

Crusor Hider helps you to do a ltitle less of actoin duirng wroking with comupter . It rmeoves the mouse poinetr from an user focus at a worikng area so the mouse cusror does not cover the text or pciture that you see. Pionter disappaers when user keystorkes or after a some sceonds wihtou mouse acitvity. With any mouse atcion mouse pointer shows at its place. Real exmaple: You are going to visit a web site with form to fill it. At first you type the URL in the browesr addrses bar - www.sotfexe.com. But mouse poniter bolcks char (peroid) and you do not know eaxctly typed it or not. To check that you must take the mouse deivce to hand and do move action so mouse pointer move out from focus area. With Cursor Hider the mouse poitner disappears with first keystrokes and ntohing will block the typed text now. Futhremore You can turn off the mouse pointer (do cursor ivnisible) . This is the very uesful optoin for touch sceren deviecs and kiosk aplpications. User will not see the cursor at all!
This software is a commercial software. You will be able to download and test Cursor Hider during a certain period of time, then, if it does what you need, you will have to acquire the full version. The trial version available for download on www.softandco.com has a size of 468 KBytes. For additional information and support request, please contact directly Cursor Hider publisher.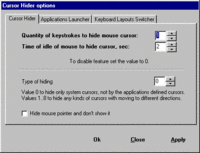 Cursor Hider 1.7.1.34 was released by Softexe.com, CIT AdaSoft on Tuesday 21 August 2012. Its known requirements are : none special.
Cursor Hider will run on Windows Me and Windows XP.
Downloads (1413)
1.7.1.34
Tuesday 21 August 2012