Hole In One Slots 1.0
Hole In One is a full screen five pay line full screen 16 bit color, slot machine. Featuring bonus rounds just like you will find in today's casino video slot machines, Hole In One will give a gambling experience like never before. Hole In One will rate your game play.Your goal is to achieve the highest Gambler Rating possible. 100 credits and 50 pulls are all you get at the beginning of a game. You can bet a maximum of 25 credits per pull. Once you run out of pulls or credits the game ends and a final gambler rating is given. More pulls can be earned throughhout game play by completing bonus games. A good gambler can extend their game play by at least 70 pulls if the golfing gods are on their side .
This software is a shareware. You will be able to download and test Hole In One Slots during a certain period of time, then, if it does what you need, you will have to acquire the full version. The trial version available for download on www.softandco.com has a size of 3000 KBytes. For additional information and support request, please contact directly Hole In One Slots publisher.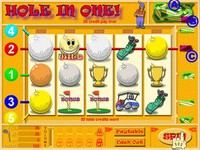 Hole In One Slots 1.0 was released by SlotVenture on Monday 15 April 2002. Its known requirements are : DirectX 8, 8 MB Video 1024x1024 textures.
Hole In One Slots will run on Windows 95, Windows 98, Windows Me and Windows 2000.
Downloads (1239)