Amazing Slow Downer for Windows 3.1.6

If you are a musician who likes to learn new songs and techniques by listening to the same piece of music over and over but wish that the music could be played a little slower, then you will enjoy Amazing Slow Downer. You can repeat any section of the music at full speed, slow it down or even speed it up by stretching the music by -50% to 400% without changing the pitch! You can also change the pitch up or down in semi-tones or fine-tune in cents (100ths of a semi-tone) to suit your instrument. This program works with your CD-ROM drive or any MP3 / Wave file on your harddisk and does all processing in real-time - no time wasted on recording or processing!
This software is a shareware. You will be able to download and test Amazing Slow Downer for Windows during a certain period of time, then, if it does what you need, you will have to acquire the full version. The trial version available for download on www.softandco.com has a size of 1005 KBytes. For additional information and support request, please contact directly Amazing Slow Downer for Windows publisher.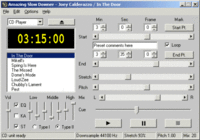 Amazing Slow Downer for Windows 3.1.6 was released by Roni Music on Friday 15 June 2007. Its known requirements are : Win 98 or higher.
Amazing Slow Downer for Windows will run on Windows 98, Windows Me, Windows 2000, Windows NT and Windows XP.
Downloads (8094)