QuickSnooker 7.0.697
Snooker is THE classic Billiard table game, more strategic than Pool, It's a game of real skill and finesse. Version 7 QuickSnooker retains the relaxed nature of it's predecessors - but adds a dimension of realism through it's 3D views of the table. Lovers of the 'classic' top down view, just need to press '2' in the game to switch to a 2D view. Like most great Games, Quicksnooker is very easy to pick up, you'll be potting balls like a Pro within a few mouse clicks, but you will soon realise that the real skill is in control of the cueball and thinking ahead. It's great fun to hone your skills against the computer opponent and build up your highest break hoping for that magical '147' (nobody's done it yet!), but the fun really starts when you play on-line.Quicksnooker has hundreds of players of every age and ability from 30 plus countries around the world - you can chat, and play on-line and take your rightful place in the Internet Rankings.2 minute Download, painless install - fully playable - even UnRegistered - UnInstall provided.
This software is a shareware. You will be able to download and test QuickSnooker during a certain period of time, then, if it does what you need, you will have to acquire the full version. The trial version available for download on www.softandco.com has a size of 6000 KBytes. For additional information and support request, please contact directly QuickSnooker publisher.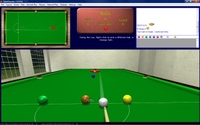 QuickSnooker 7.0.697 was released by QuickGames on Sunday 30 January 2011. Its known requirements are : Windows O/S.
QuickSnooker will run on Windows 98, Windows 2000 and Windows XP.
Downloads (15114)
7.0.697
Sunday 30 January 2011