WinSplit 7.10

Are your files too big for a standard disk? Do you want to archive your MPEG or AVI on CD-Rom? Or does your eMail box restrict the size of an individual eMail? Then WinSplit is your tool of choice! It splits your files into chunks of the size you need and puts them back together again. Simple. Small. Best splitter tool. Handles files larger than 2 GBytes!
This software is a shareware. You will be able to download and test WinSplit during a certain period of time, then, if it does what you need, you will have to acquire the full version. The trial version available for download on www.softandco.com has a size of 1060 KBytes. For additional information and support request, please contact directly WinSplit publisher.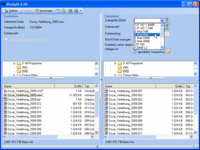 WinSplit 7.10 was released by aborange.de on Tuesday 05 December 2006. Its known requirements are : none.
WinSplit will run on Windows 95, Windows 98, Windows Me, Windows 2000, Windows NT and Windows XP.
Downloads (4997)
7.10
Tuesday 05 December 2006